Monica Van Duyne, LPC, NCC
Rooted in radical self-compassion and reflection, Monica (she/they) is dedicated to helping you heal and grow your relationship with yourself.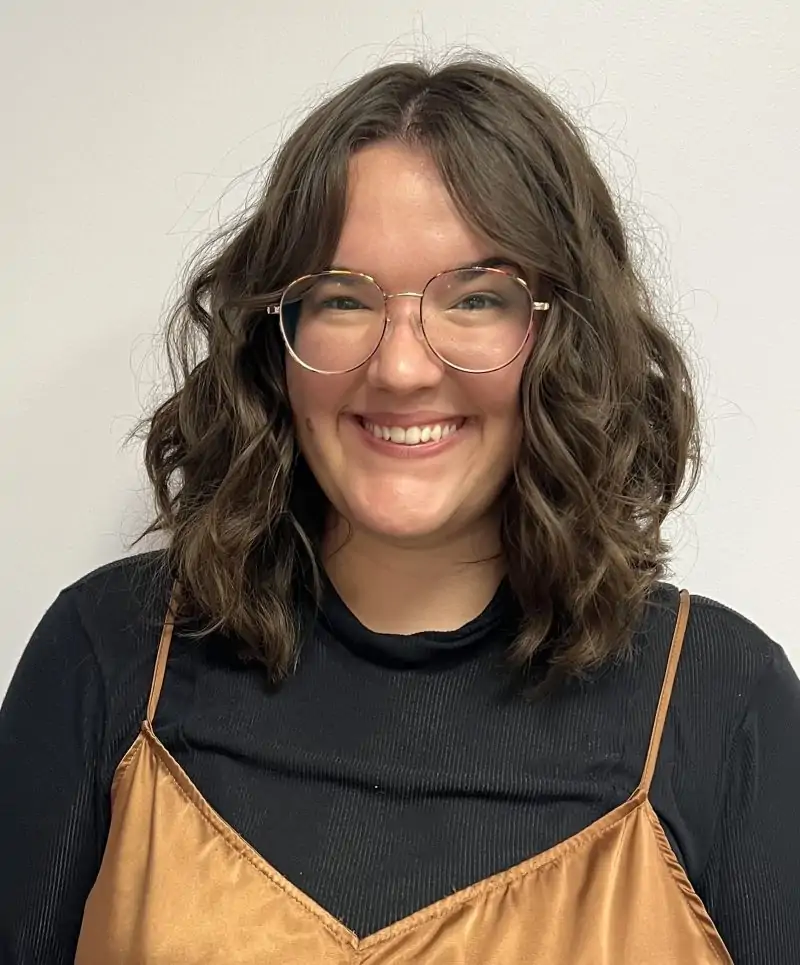 Monica's Credentials and Experience
Monica Van Duyne is a Licensed Professional Counselor (LPC) and a National Certified Counselor (NCC). She received her Bachelor of Arts degree in interdisciplinary psychology and Spanish at the University of Illinois at Urbana-Champaign. Monica completed her Master of Arts degree in clinical mental health counseling at Northeastern Illinois University.
Monica has experience working in various therapeutic settings with diverse client populations. She sees clients of all ages, providing individual, family, and group counseling.
Working With Monica Van Duyne

Monica is committed to helping you increase awareness of your own drive to care for and love yourself.  She also helps you to identify your pain or fear often develops into a tendency to self-sabotage. She is passionate about helping to create a space that feels unique to your needs, safe for vulnerability, and is collaborative.
Her work is built on an integrated model. It draws upon various counseling modalities to provide the best care for you as an individual based on your specific needs. These approaches include:
Person-centered counseling (how you are the expert in your own life)
Narrative therapy (how your life story has developed and how you play your role as author)
Attachment-based work (how early childhood relationships with family, friends, and the systems in which you've lived impact your relationships with others and yourself)
Existential therapy (how your "meaning(s) of life" are expressed or not expressed)
Behavioral therapies (CBT, DBT, ACT – how to increase your awareness of how your thoughts/emotions/behaviors/physiological sensations impact each other and the impact they have on your day-to-day functioning)
Multicultural counseling/social justice advocacy (how your own individual identities and the larger systems at play intersect and impact your life)
Interpersonal Neurobiology (how your brain's development impacts your motivation, your relationship with others/yourself, and daily life and how to change it)
Mindfulness-based approaches, play, and humor.
Together, you will explore what is the ideal balance of insight/reflection and experiential skills for you.
Monica specializes in working with individuals, parent-child relationships, and groups. She is passionate about exploring themes of grief and loss, relationships (both with others and with yourself), motivation, anger, anxiety, core beliefs, and more. She also specializes in working with people from the LGBTQIA+ community, of which they are a proud member.
Monica believes that the most important aspect of counseling is the therapeutic relationship. She is empathic, open, compassionate, and collaborative. If you choose to work with her, she will walk with you on your journey towards healing for as long as you want or need the company alongside you.
More About Monica Van Duyne
Monica's Philosophy

Monica embraces a holistic perspective and believes that your identities (e.g., race, ethnicity, gender, sexuality, spirituality, socioeconomic situations, etc.) and systematic factors will impact both your daily life and your counseling experience. She is passionate about approaching counseling from multicultural and socially just perspectives. She is dedicated to support you to become your best advocate/ally. Monica strives to offer support and insight to clients as they build non-judgmental self-awareness and move into their ideal and authentic self – whoever that may be.
Monica's Why
Monica has always been drawn to help others. She has grieved her own traumas and losses through counseling and self-reflection and is committed to creating a safe, supportive space for clients to heal at their own pace. She is deeply passionate about helping clients explore the many challenges that are a part of life — the joys, the lows, the frustrations, and everything in between.
On a Personal Note

In her free time, Monica enjoys spending time with loved ones, mindful moments in nature, time with her dog, joyful movement of the body, cozy video games, creating and enjoying food, and learning about the world and life.